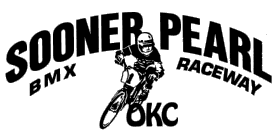 Sooner Pearl BMX Site Index
A link to each available '.html' page of the site. Each 'link' is followed by information about that '.html' page.
Report BROKEN LINKS, QUESTIONS, Suggestions: webmaster

TOP OF PAGE
© 2001-2008 Red Oak Resources, All Rights Reserved.
Last updated Friday June 27,2008 07:45 PM
Build date Sunday August 27,2006
Trademarks and registered trademarks are property of their registered owners.