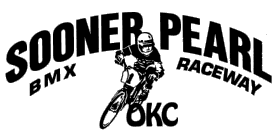 BMX is short for Bicycle Motocross. A sport which started in the 1970's when bicycle riders wanted to perform jumps and 'getting air' on their bicycles like MX (Motocross, motorcycle) riders. The riders started to build neighborhood tracks and began to compete against other local riders until now there are two sanctioning bodies. These are the ABA and NBL. Each focused on BMX as a SPORT and to fair competition by member riders. Sooner Pearl BMX Raceway is a sanctioned ABA track and abides by all ABA rules.
The ABA represents the largest sanctioning body of BMX riders in the world. There are over current 70,000 members and over 250 tracks in the North America with these numbers growing daily.
This is a FAMILY sport! It can involve everyone in a family, from pit crew to the parent who cheers the riders as they race.


Children created this sport and it is dominated by children in numbers but there are mature riders in BMX. It is a sport which promotes individual achievement, builds character, social skills, self motivation, self esteem, discipline, determination and is healthy exercise.
BMX involves the whole family and allows families time together having fun in a Drug Free environment. Races are FREE to watch and everyone is welcome to come and watch.
BMX racing is clean, exciting fun that whole families can get involved in whether as a racer, spectator, pit crew or track volunteer. BMX has something to offer everyone.
Races are organized according to age group and skill levels, so everyone gets the opportunity to compete on a fair and competitive basis. Even beginning riders have the chance to race safely with other new riders.


Simply visit you local track during the practice or racing time and ask for a membership application or information. You can watch the races, talk to other BMX families, or give it a try yourself.


Most any individual with a BMX bicycle, proper equipment and an ABA membership. Races are organized into separate girls and boys classes then divided into age groups and skill levels. The age groups range from 5 and under to 51 and over classes. Within these age groups are three skill levels:
Novice

Intermediate

Expert
All riders start as Novices and work up to more advanced levels by winning races. The group a rider races in on a given day depends on several items. Total number of riders racing, number of riders in an age group and the riders skill level.


The ABA has over 200 tracks nationwide! Check the ABA web site for one near you.


What kind of bike do I need?
There are 2 basic types of bicycles used in BMX:
BOYS/GIRLS

, bicycles with 20 inch or smaller wheels

CRUISER

, bicycles with 24 inch or larger wheels
BMX racing does not require a lot of expensive equipment. Most racers start with their 20" street bike by removing the front brake, chain guard, kickstand and reflectors and putting some inexpensive padding on the 'top tube' of the bicycle frame, handle bar and stem.


What other equipment do I need?
A helmet is required: a 'FULL FACE' is recommended but not required. You also must to wear long pants and a long sleeved shirt and enclosed shoes. Shorts, cut-off's, tank tops or short sleeved shirts are not allowed at anytime while racing or practicing at a sanctioned event.
NEW for 2009, ABA rules have changed on riding apparel.
long shorts and shim guards are now acceptable.
Many tracks offer equipment on a nightly loan basis.


An ABA membership is required to race at ABA BMX.
The following memberships are available.
One Day Free Membership This membership is intended ONLY for the new rider to have a chance to experience the sport prior to joining one of the memberships below. This membership is for one practice or one race only and is not transferable or re-useable. Entry Fees apply.

One Day Free Membership Application

30 Day Trial Membership

The ABA offers a 30 day trial membership for $25. There is a $25 fee for this 30 day trial membership. This membership is valid at any ABA track, however riders will receive no ABA points for their finishes. This is a one-time membership. This membership can be converted to a full membership. There are many bike manufactures out there, that have coupons for this membership that entitles you to get it for free.
30 Day Membership Application

Full (annual) Membership
A yearly membership is $45.00 for one year from the date you purchase. This membership, which is valid at any ABA track across the US and Canada. Upon becoming a full member, you will receive an ABA Rulebook, an ABA number plate, an assigned number and an official membership card and the ability to earn points towards year-end awards. The rider will also receive an annual subscription to the BMXer magazine (delivered monthly). The BMXer contains current point standings for every ABA district and all national groups, ABA track directory, current coverage of all the ABA Nationals and noteworthy events, bike tests, interviews and much more.
New ABA members and renewals also get their 1st race FREE at Sooner Pearl.
To get this free race you must credit the membership to Sooner Pearl BMX Raceway, ABA track #1073

A membership may be purchased at the track or by calling (405)235-3602
Membership forms are available at the track or you can print one.
Full Membership Application

Discount rates are available for additional rider 'classes' and family memberships, discounted or additional 'family' memberships do not receive BMXer magazine subscriptions.
Once you have become an ABA member, the only cost will be the race day entry fee. The entry fee entitles you to be a participant in the days actions. A typical BMX race includes 2-3 qualifying motos along with the main event. In the main event, you race for awards, determined by your finish, along with the precious ABA points.
A membership may be purchased at the track or by calling 405-235-3602.
Race fee's: Race fee's vary according to the individual race, if you have a question about race fee's see the 'Track Operator'.
Current Sooner Pearl race fee's:
Local Single Point race:
$10.00 for trophy or Saver Stamps
$6.00 for ribbon per 'class' per race
All 1st Time Riders will receive an award on their first local race day no matter how they finish! New ABA members also get their 1st race FREE. Please note, race pricing varies from track to track, the above pricing applies to 'regular local single point races' and not all tracks award the 1st time ride an award.


What kind of awards can I receive?
Trophies, ribbons and Saver Stamps are normally handed out at the local races and are given to 1st thru 3rd place. A rider is also competing for District points. These points are compiled yearly, (the BMX season is year-long, January 1st to December 15th). A rider's yearly points total will determine the number displayed on the bicycle 'number plate' for the following year.
All riders compete for awards and ABA points. Points are published in the BMXer magazine which each rider receives monthly. There a rider can check and compare his or her point standings with other riders in their own district and across the country.



TOP OF PAGE
© 2001-2006 Red Oak Resources, All Rights Reserved.
Last updated Wednesday December 10,2008 12:13 AM
Build date Wednesday February 20,2002
Trademarks and registered trademarks are property of their registered owners.