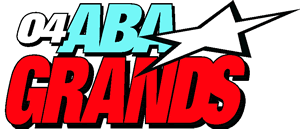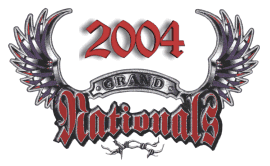 ---
11-25-2004
STARTING TODAY!

The day started with much comotion just after sun up and didn't finish till after dark. The riders go a few minutes on the track to Practice today, which is the only time they will have to Practice all weekend.

As usual the track has an awesome lay-out, a 'u' inside a 'u'. This year as each year the track is different. It didn't take long to find a few spots there were problems with. The smaller riders did have a hard time just making it to the finish line this time. It seems there is a sloped tabletop just before the Finish Line, this table is so steep and the riders approach slow enough some didn't get up. There was also a lot of talk about how loose and soft the track was today. Places had very loose dirt. Since the dirt is stored in Tulsa and there has been about a month of rainy weather this dirt is damp. Let us hope it packs better during Practice today and some changes are made this evening or riders will have a hard time this weekend.

The Pro section is big and most riders who dared to rider it had a little trouble hitting the jumps, they are huge! After some time on the track most had made it through cleanly.

The weather was a little chilly this morning and stayed cool all day with a high of only 57 with a 16 mph wind made it feel about 40 most of the afternoon and Frosty was there for a visit this morning. The skies were clear and stayed that way all day.

This year is BIGGER and BETTER than most. It seems the ABA has once again opened the races to VENDORS. As wish move as most didn't like the 'PRO BIKE' deal. This year has more vendors and parts than any other race and if this continues the whole building will be full next year. for a GREAT GRANDS!

The TEAMS are out in force this year and it is easy to tell. There are more this year than we have had here and it looked as if everyone was having fun at this important race.

Local Tulsa TV channel article on the BIG RACE. Courtesy of kotv.com
TOP OF PAGE
---
11-25-2004
Pictures will open in a new window.

3rd straight


3rd straight


Starting gate


ROC awards


GRANDS trophies


Coastal Bike


Panoramic Pictures, These are large pictures please wait for these to load.


Looking east at track


Looking north at track


Vendor row


Vendor row


Vendor row

TOP OF PAGE
---
11-26-2004
SOME SERIOUS RACING TODAY

This morning things got started a little earlier than yesterday. Before the sun came up the doors opened and things didn't stop till way after dark. Today is the Race of Champions and it will be HOT racing action at its best and will preview some riders who will race in the GRANDS.

The track was a little different today in good and bad ways. The roller coming out of the last turn had been removed overnight and most of the track was a little more dry today. There were several places the dirt is really loose early and things didn't get better. One thing about this track is the same for everyone good and bad. Riders who know what to do on a track which has loose material didn't have any problems. But some had problems and some overcame their problems to win.

It was a little warmer today and the wind died off some to make for a great day. The sky did have a few clouds but they were thin and none had that nasty four letter word coming from them. It wouldn't have mattered as this race is indoors.

There were many more people around today and the crowds will only grow until Sunday. It was quite apparent racing has started as many in the crowd were sounding off for their favorite riders. This year you can hear the race announcer all over the building and it makes things nice as you walk around looking at all the booths in the Expo Center.

Things got hotter as the day went along ending with the PRO SPECTACULAR this evening. What a great start to the BIGGEST BMX RACE IN THE WORLD.
TOP OF PAGE
ROC November 26, 2004
11-13 GIRLS CRUISER Total Riders = 24
8 DANIELLE NOWELL, , ARDMORE, OK

6 NOVICE Total Riders = 11
5 RILEY WALLACE, MOM & DAD, CRESCENT, OK

9 NOVICE Total Riders = 6
4 BRENDON WILNOTH, , CRESCENT, OK

13 NOVICE Total Riders = 5
2 CAMERON LLEWELLYN, BMX FOR CHRIST, OKLAHOMA CITY, OK

14 INTER Total Riders = 25
5 GARHETT MYERS, MARZOCCHI/661/BMX TRAINE, OKLAHOMA CITY, OK


TOP OF PAGE
---
11-26-2004
Pictures will open in a new window.

Staging


Semi moto on gate


Kappa booth


Brew booth


Haro booth


ACS booth


Staats booth


INTENSE Team


Photomatic booth


Troy Lee designs


Revolutions Bike


J&R Bicycles.com


Lizard Skins


Transit video


Supercamp booth


Panoramic Pictures, These are large pictures please wait for these to load.


Yamaha/Redman Island


Hyundai/Mongoose


Hear and see some ROC.

Web files from a digital still camera. These files are very large.


Semi moto (792k)


Semi moto (866k)


11 GIRLS Main (601k)


16 GIRLS Main (1066k)

TOP OF PAGE
---
11-27-2004
GRAND GRANDS

Today we got to sleep in an extra half hour and racing started at 9:00am. Things didn't slow down till after dark again today.

It was a little different story on the track today as work on it lasted late last night and started before races this morning. Some places still had wet spots and loose dirt again today. Some quick fixes were used to get some of the real problem areas corrected. All that aside as said before the track is awesome and it is apparent there has been a lot of work put into it for the riders to have a great track to compete on this weekend.

The weather was once again on the cool side with a little more wind today than yesterday with more high clouds. If you stayed in the sun and out of wind it was nice outside.

This marked the start of the GRANDS and what a start it was. It seemed as if someone brought the other bus today as the rider count took a huge jump overnight. With 494 moto's the ABA crew had their hands full both on the track and off. It looks as if this one will be another record year for this race.

It was a good day for more than BMX riders today as the ABA had their Track Operators meeting today with 41 TO's signing in, there were more as some did not sign in. After all was said and done things are really going to change in BIG ways for the ABA, ABA tracks and riders for 2005. Without going into details here lets just say we have many new things ahead which should have a lasting affect on the local level. All TO's will know about these changes in the rules, events and other things that affect all of us very soon. It was a good time to put a face with a name and get insight from other TO's along with just talking about problems and ideas each track faces. There was a big round of applause for Kelly Cross (TO) of Heartland BMX out of Topeka Kansas for being the TOP fundraiser for the Race for Life series this year. We also learned this was another record setting year for total donations which topped $330,000 this year. One day that money will help someone we don't know in a way we may never be able to imagine.

Tomorrow is the BIG SHOW and things are ready now. The crowds are ready, the track is ready and the riders are ready. It may be the end of the year for us but it will be the beginning of a building year for the ABA, our tracks and riders.
TOP OF PAGE
---
11-27-2004
Picture will open in a new window.
TOP OF PAGE
---
11-28-2004
THE BIG RACE IS OVER

This day got off to a cold start but things got hot as soon as the first SEMI got off the gate.

The track was great again today but had more loose material all over. There was damp spots again today but many overcame the problem areas and went on to win today.

Today was a lot colder with a strong wind which made things feel a lot colder and the heavy clouds started to roll in this morning. It seemed as if it got colder as the day went by.

The first thing on the agenda today was to finish the SEMI's which numbered 196 MOTO's. As said this got the day started and with heat from the first moto on it was tuff and very competitive all day long. Things went very smooth throught this rounds of races.

It was now time to start the MAIN's, even though there was 109 MOTO's again it went very smooth and the racing just got hotter as each moto came to the gate. AA Pro was a mess the first round and there was problems in the second and final rounds but Bubba Harris somehow came out on top with a BIG WIN and he was very happy!
Samantha Cools took the Girl Pro award.
"C Money" Jason Carne$ won Vet Pro.
Alise Post took both National #1 Girl & Girl Cruiser
Terrell Proctor won Cruiser on points.
You can read more on the ABA site HERE.
ROC Results HERE.
GRANDS Results HERE.

After it was all said and done this was a very unforgettable GRANDS for many riders, fans and parents. The crowds were there all day giving support to the riders. There are a few who will go home with a 'horse' throat tonight.
We want the thank everyone who came out for these awesome races and hope everyone makes it home safe and sound.

THANKS again from Oklahoma!
TOP OF PAGE
Grand National November 28, 2004
5 & UNDER NOVICE Total Riders = 25
4 BRET CRAWFORD, R&B CYCLES/WADDWEAR, OKLAHOMA, OK

6 NOVICE Total Riders = 10
8 RILEY WALLACE, MOM & DAD, CRESCENT, OK

7 NOVICE Total Riders = 17
6 RYAN CHAPMAN, REALTY 1, EDMOND, OK
5 JACOB DELOACH, , PIEDMONT, OK

9 INTER Total Riders = 38
7 BLAKE HANDY, GRANDPARENTS, OKLAHOMA CITY, OK

13 NOVICE Total Riders = 5
2 CAMERON LLEWELLYN, BMX FOR CHRIST, OKLAHOMA CITY, OK

16 INTER Total Riders = 18
7 MATT FINCH, , MIDWEST CITY, OK


TOP OF PAGE
---
TOP OF PAGE

© 2001,2002,2003,2004 Red Oak Resources, All Rights Reserved.
Last updated December 5, 2004 9:46:25 AM
Trademarks and registered trademarks are property of their registered owners.
E-mail about this site: webmaster