Here's what I remember most about the old Trosper BMX track
Steve Clymer
My first race was on a double-points day and the track was packed with riders and their families. 12 year old Beginner in the spring of 1982. Although BMX is an "individual" sport you could immediately sense the comradery at the races. If you forgot or broke something, people would offer a replacement. The track operators were friendly and quick to offer instruction, advice or help if needed. I was assigned a number and since I had no number plate, the Track Operator hooked me up with a paper plate - yes the kind you eat on - and wrote my number on it with a magic marker, then taped it to my handlebars.
1982, rounding the final turn at Trosper. My first race ever, hence the stylin' paper plate: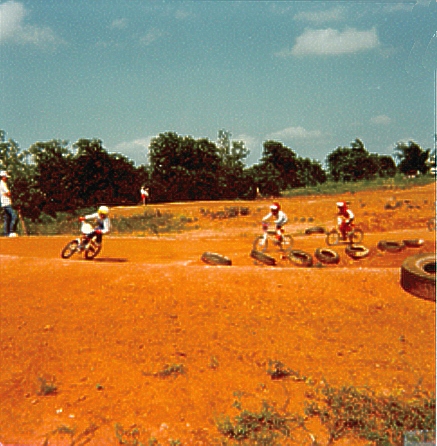 Riders usually ranged between 5 years old to roughly 25 years old, every now and then there'd be a 4 year old in the youngest class. As far as I can tell, the ABA points system and rider class/ranking is essentially the same today as it was then.

Trosper was relatively long compared to other state tracks and the tracks I read about in BMX Action magazine. It had a long, gradual starting ramp and big first jump, sweeping 90-degree first turn and straights with tight 180-degree turns after that with various jumps, tabletops and whoop-de-doos. There's not much difference between indoor or outdoor tracks from that era and the tracks today. The grooming appears to be better these days. I'm curious to know if riding strategy has changed much over the years; what line to take in certain turns, how to attack certain jumps, etc.
1982, Trosper Park. From the NW corner of the track, looking SE towards the starting gate in the far background: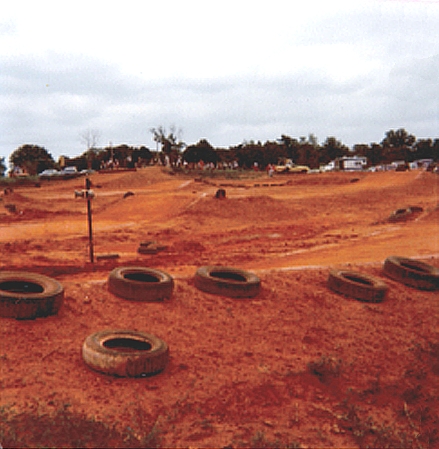 1982, looking down the final stretch at Trosper. Finish line in the background, riders approaching whoop-de-doos: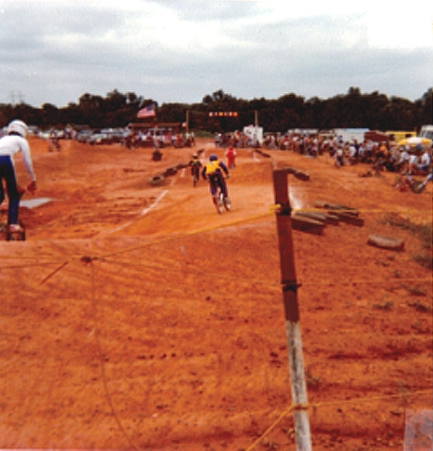 The 1982 ABA Grand Nationals were held at the State Fairgrounds in OKC. The famous riders and people you'd read about were all there. California was always represented well at the National races, especially in the Pro ranks. Many of the winners of Expert classes at National events were from southern California and the Grands were no exception. The ABA track people built a massive, very steep wooden starting gate which everyone was talking about - I don't think anyone had seen anything quite like it. The trophies were huge - 1st place trophies were six feet tall! My seventh-place trophy is about two feet tall, slightly bigger than an average single-points 1st place trophy. I was bummed about crashing in the main but overall it was a total blast and quite a memorable weekend. Subsequent ABA Grands in 1983 and 1984 were held in Tulsa.
1982, ABA Grand Nationals in OKC. A bad picture of the starting gate: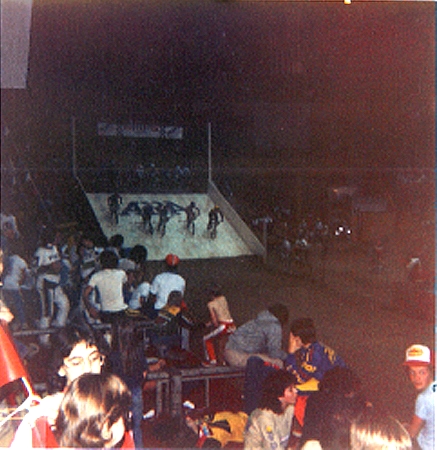 Story about the 1982 Grands in the Sunday Oklahoman and accompanying pictures: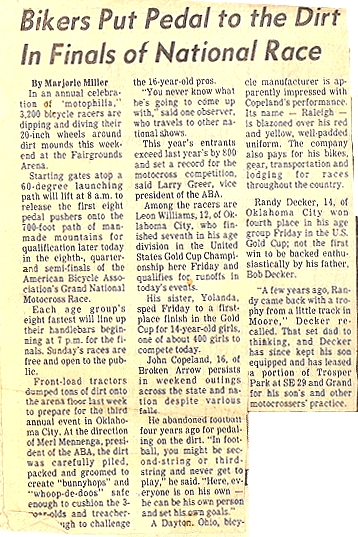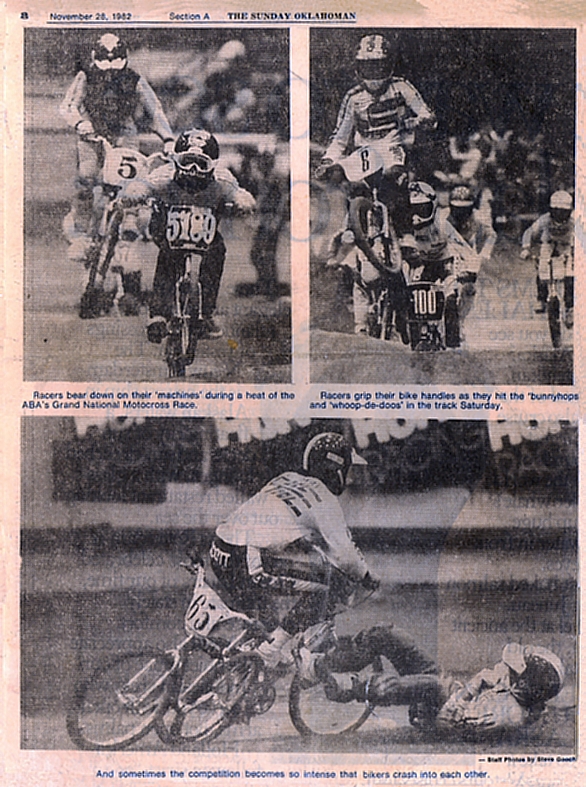 Trosper riders got a nice surprise in the spring of 1983: the starting gate from the ABA Grands was dismantled, moved, and re-assembled as Trosper's starting gate! Pretty cool. Most liked it, some didn't, but it added to Trosper's uniqueness. The trophies passed out to Trosper's 1st, 2nd & 3rd place riders were always very tall, very nice. Double points trophies were even bigger.

No mention of early-1980's Oklahoma BMX would be complete without mention of Leon and Yolanda (Yo-Yo) Williams. They were practically superstars in the BMX world back then. Leon was a year younger than me and I was thankful our birthdays didn't overlap. At 11 years old he could beat many of the older Expert riders and of course he got faster as he got older. He would often win the Open races when he faced older riders. He wasn't a real big guy, and didn't look like he was pedaling harder than anyone else - but he'd win big races and made it look easy. Yo-Yo was in a class by herself as well, the perrenial National points leader in her age class. She was basically unbeatable. She was a year older than me and would've left me in the dust had we raced each other. Both of them had full factory sponsorships and raced at National events year-round.

I also remember the name Freddy King, he was a local rider who was highly ranked on the national points scale. There are several more really good racers whose names I've forgotten. I don't know if Matt Hoffman ever raced at Trosper; if he did, it was after I stopped racing.