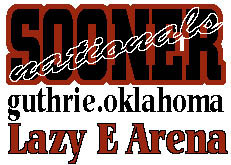 ---
02-02-2006
TRACK COMPLETED
Well it is all over now as far a track building goes anyway. The track has been completed and is ready for racing action. It is a good looking track and one with a few twists here and there for good measure. Coming out of gate you have a good distance to build up some speed for the step-up then a small double into the 1st turn. Out of the 1st turn you have a step-up, double, triple and then the 2nd turn. Coming out of the 2nd turn is where the track splits and the PRO's go left, amateurs go right. Thats where we have some fun and the last turn is a twin turn with the PRO's turning inside the amateurs turn. Check out the pictures on the lay-out of the rest of the track. It looks great and is nice and smooth and packed. The track crew did a great job of mixing it up this year.

There will a large venue of vendors, used BMX items and other items for sale. Pro Gate will be there to show of their wares as well. Sooner Pearl will be selling 50/50 tickets at the races, this is a good way to help show your support the local tracks which co-sponsor this event.

WEATHER
Our ever changing weather looks to be good this weekend and this may change a little but should be fairly close.
Thursday: Scattered sprinkles. Mostly cloudy, high near 68. NNW wind 8-16 is what we had on the plate for today.
TOP OF PAGE
SOONER PEARL BMX RACEWAY
ABA BMX Since 1987
---
TRACK NUMBER
405-235-3602
821 S. Western
Oklahoma City, OK
---
BIG EVENTS
Check
HOT NEWS
often as we have
SPECIAL EVENTS
during the year and you can find out the latest
HOT NEWS.
---
okbmx.com NOW features fully validated .html and .css code. This site is one of FEW ABA track sites with fully validated code. Validated pages show the W3C logo on the bottom of each page.
---
Now for some pictures of the track and some of the people who built the track and some who were there just to get a first ride on the track. To bad for us the ABA folks wouldn't allow them to ride much until tomorrow. Most of us left the track about 7:15pm and that was after the track was finished and had a good watering just before everyone left for the evening. All the banners are up and things look great.

Now those pictures......


---
Want to see the unstitched pictures of the track? The following are 2 groups of 4 pictures which are the unstitched track pan images. First looking east then looking west.

Now those pictures......
Looking for old NEWS POSTS? Find archived
HOT NEWS
here.
ARCHIVED NEWS

TOP OF PAGE
© 2001-2006 Red Oak Resources, All Rights Reserved.
Last updated Friday Feb 03,2006 09:33 AM
Trademarks and registered trademarks are property of their registered owners.